TP-Link TL-WDR3500 N600 Wireless Dual Band RouterItem: 86-0028
TP-Link TL-WDR3500 N600 Wireless Dual Band Router


Highlights:
Simultaneous 2.4GHz 300Mbps and 5GHz 300Mbps connections for 600Mbps of total available bandwidth

1 USB Port - Easily share a printer locally and files & media with networked devices or remotely via FTP server

Wireless on/off switch- Green wireless lets you simply turn the wireless radio on or off
What This Product Does
TP-LINK's TL-WDR3500 is a performance optimized simultaneous dual band wireless router combining the blazing fast speeds of 300Mbps using the crystal clear 5GHz band and 300Mbps using the traditional 2.4GHz band. With simultaneous dual band, users have 600Mbps of total bandwidth to power numerous bandwidth intensive applications at the same time around a large home or office setting, where simple tasks such as e-mail or web browsing can be handled by the 2.4GHz band at 300Mbps and more latency sensitive tasks such as online gaming or HD video streaming can be processed over the 5GHz band at 300Mbps, at the same time, with USB 2.0 port capable of sharing flash storage, printers, ftp servers and media players, users can power a robust home media network.
5GHz 300Mbps + 2.4GHz 300Mbps - Concurrent Dual Band Wireless
The TL-WDR3500 broadcasts and receives both 2.4GHz and 5GHz connections simultaneously at 300Mbps and 300Mbps respective speeds. Like two wireless routers in one, this allows users to run day-to-day applications, such as e-mail and web browsing over the 2.4GHz band at 300Mbps while using bandwidth intensive or latency sensitive applications, such as streaming HD video or playing online games, over the clearer 5GHz band at 300Mbps, at the same time.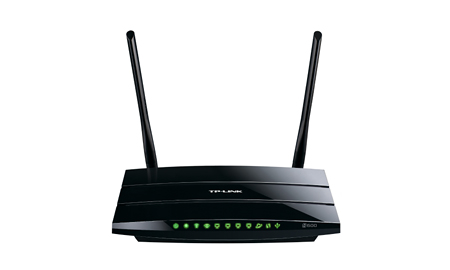 Versatile USB Sharing Port
Multi-functional USB Ports - 1 USB 2.0 Port
(1) Share a Printer with Multiple Computers and devices on your network.
(2) Share Files & Media at Home or via the ftp server while away from home.
IP QoS – Control Your Bandwidth
TL-WDR3500 supports IP QoS (Quality of Service), allowing optimum utilization of bandwidth and offering bandwidth control over congestion, preventing bandwidth abuse. In this way, users of a small network receive committed and specific bandwidth, preventing non-critical applications from degrading network performance.
One Button Security Setup
The TL-WDR3500 features Wi-Fi Protected Setup™ (WPS) that allows users to almost instantly setup their security simply by pressing the WPS button on the router and automatically establishing a WPA2 secure connection, which is more secure when compared with WEP encryptions.
Not only is this faster than normal security setups but more convenient in that users needn't remember a password!
Easy To Use
The device comes with a CD featuring an Easy Setup Assistant that leads users through the setup process step-by-step, and even helps with wireless network settings and security configurations. With setups this easy, even novice users can have their networks up and running in mere minutes.
Customize your order
FREE SHIPPING ON ALL ORDERS OF 79.99$ AND MORE!
We now offer free shipping on orders of 79.99$ and more! (10.00$ shipping on 79.98$ orders or less) ENJOY!